OCBS October Speaker Is Roger Hinchcliff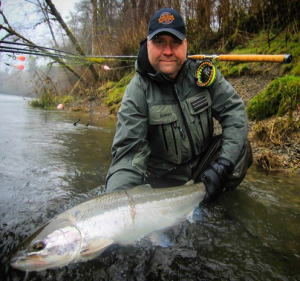 October 25th, 2018 our speaker is Roger Hinchliff at Buffalo Wild Wings. Roger began fishing the river banks of Southeast Michigan over 38 years ago. Considered an authority on steelhead fishing, he loves sharing his expertise with other anglers.
Roger is a featured speaker, a popular blogger, and the successful author of many published articles. Roger also has several instructional videos on his YouTube Channel, Steelhead Manifesto, and two Facebook pages; an entertainment page—with memes and fish photos— which draws fans from around the world, and a Facebook forum page—a place to discuss tips, tricks, and tactics, among other topics.
Roger's passion for chasing steelhead all around the Great Lakes region, he says, started at first bite. He now spends every weekend—10 months each year— chasing and catching steelhead in Wisconsin, Indiana, Ohio, Pennsylvania, New York, the Olympic Peninsula in Washington, and Michigan.
Roger is a pro staffer for several fishing companies; belongs to many outdoors/fishing organizations; and he offers his time to various conservation projects and river cleanups.
To learn more about steelhead fishing, visit Roger's website at www.steelheadmanifesto.com.
OCBS ANNUAL CHRISTMAS PARTY DEC 13th,2018
This years Christmas Party will be held at Buffalo Wild Wings on Pearl Road in Strongsville. It is the same location as last year. We will have a Chinese auction and a rod and reel card raffle. Check out all your fishing gear and bring a donation if you can. It will be greatly appreciated by all.
As last year members are $10.00 and guests are $15.00.
We will have plenty of food for everyone.
We are limited to 100 people in the room so get your reservations in as soon as possible. You can make reservations at the October and November Membership meeting .
---
2018- 2019 OCBS CHAMPIONSHIP SERIES TOURNAMENT DATES
4 November 2018 18 November 2018 9 December 2018
17 March 2019 7 April 2019
CHECK IN STATIONS
EAST SIDE WEST SIDE
Harbor Bait & Tackle Erie Outfitters
786 Richmond Street 5404 E. Lake Road
Painesville, Ohio 44077 Sheffield Lake, Ohio 44054
(440) 354-8473 (440) 949-8934
Signup sheets will be available at the October 2017 Membership meeting for those members
who want to participate in this season's steelhead tournament.

Entry fee: $15.00 per participant.
Be sure to consult the Tournament Rules posted on the OCBS website.
John Beedlow
Outing Director