Jim Lampros Is Our Speaker at the November 20th, 2014 Membership Meeting at the Firehouse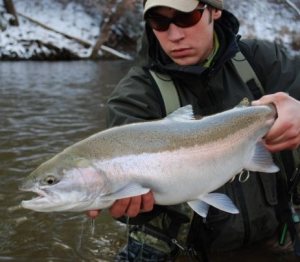 Born and raised on the East side of Cleveland, Jim grew up fly fishing for steelhead on the tributaries of Lake Erie. He's in the picture displaying a beautiful Lake Erie steelhead.
While attending Miami University of Ohio, he led fly fishing and other outdoor adventure trips for the University's Outdoor Pursuit Center. He helped develop the curriculum for the "Beginning Fly Fishing" accredited course, serving as student instructor for three semesters.
During the summers of 2008 and 2009, Jim worked in Victor, Idaho as a retail associate and fishing guide for WorldCast Anglers, the 2004 Orvis Endorsed Outfitter of the Year, where he honed his trout fishing skills on western rivers such as The South Fork and Henry's Fork of The Snake.
A graduate of The Western Rivers Professional Guide School, Jim loves teaching and sharing his passion for fly fishing with new anglers, and is well known to Steelhead Alley fisherman. He gave a very interesting presentation last season and is back again with another one that should not be missed.
2014 OCBS Annual Christmas Party
The 2014 OCBS Christmas party will be held on Thursday night December 11th at Buffalo Wild Wings in Strongsville. It should be another great OCBS Christmas party with lots of fish tales, food and fun.
We will have a 2 hour buffet style dinner including pepper jack steak wraps, an assortment of wings, salad, steak fries and non-alcoholic beverages. There will be a cash bar.
Cocktail hour starts at 6:30 PM. Dinner will be served from 7:30 to 9:30 PM. Raffles will be at 9:30.
The cost is $10 for members and $15 for guests. All members and guests in attendance at the party must pay in advance or at the door. This is because Buffalo Wild Wings will charge OCBS the buffet price for each person in attendance at the party.
The party room can hold about 100 people. The first 100 paid reservations will have first priority on the limited seating. Once the first 100 paid reservations are received, we will try to accommodate members by accepting reservations on a "standing room only" basis.
We will have a premium rod and reel raffle, Chinese raffle, special deserts and lots of fish stories.
If you want to attend and share some holiday cheers with your fishing buddies, please make reservations by sending an email to ohiocentralbasinsteelheaders@oh.rr.com or by calling Tom Blotzer at 216-701-4227 or Joe Moravec at 216-475-6209.
Advanced payment can be mailed to: OCBS P.O. Box 29577 Parma, OH 44129 or you can sign up and pay at the November membership meeting.
If you have any questions, comments or concerns, please contact Tom Blotzer at 216-701-4227 or Joe Moravec at 216-475-6209.
OCBS Championship Series and Fly Outings for 2014-2015
This year our Championship Series Outing is sponsored by the Rodmakers Shop who has sponsored our Series Outing in the past.
New this year, our Championship Fly Outing is being sponsored for the first time by The Backpackers Shop in Sheffield Village.
Check in for all of our Outings will still be at Erie Outfitters on the West side and Harbor Bait and Tackle on the East Side. See the outing pages for rules and check in locations and times.
The Dates for the Championship Outings are as follows:
CHAMPIONSHIP SERIES
23 November 2014; 14 December 2014; 15 March 2015
CHAMPIONSHIP FLY FISHING:
26 October 2014; 29 March 2015