OCTOBER O.C.B.S. SPEAKER
Dan Haude –"Advanced Float Fishing" For Great Lakes Steelhead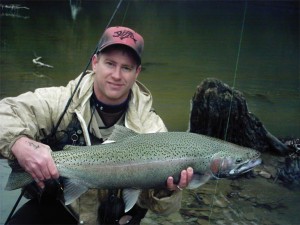 Dan is a professional tournament angler, USCG licensed charter captain and Ohio DNR licensed Lake Erie fishing guide He has spent thousands of hours fishing the Central Basin of Lake Erie and know the subtle nuances of the area quite well. He is also an excellent Steelhead fisherman who uses spinning, centerpin and flies to catch some of Ohio's best and biggest Great Lakes Steelhead, throughout the season.
Back in 2006, Dan was the our overall Championship Series Winner, finishing in First Place with a 122" Fish Total.
Dan will present a program of advanced methods for float fishing for steelhead, tips and techniques. He has spoken on this subject several times at our annual Steelhead EXPO. This is an excellent program you do not want to miss!
This is our first membership meeting at our new location, Buffalo Wild Wings on Pearl Rd, Just west of I71 (near the Brew Kettle and Home Depot). There is a large back room with a great space, and plenty of good food and drink. We hope to see you there!
OCBS 21st ANNUAL EXPO Another Great Success!  
 We kicked off our new Steelhead season with our 21st, (yes 21st!) O.C.B.S. Steelhead Expo. This year we were again fortunate to be able to hold this event at Rocky River Nature Center, in association with Cleveland  Metroparks. We had another great turnout this year with about 1000 visitors. We need to thank everyone from our participating vendors, club members, fly tiers, and speakers. Our speakers are the heart of our EXPO and they are:
 Steelhead Fisheries Update; Phil Hillman  
Gearing Up For Steelhead; Wael Dardir  
 River Basics with Les Ober    
Advanced Float Fishing For Steelhead Mike Durkalec   
 Fly Fishing for Great Lakes Steelhead Dan Pribanic
A SPECIAL THANKS GOES OUT TO ALL THE VENDORS & INDIVIDUALS WHO DONATED TO 2014 EXPO.
AS MEMBERS WE SHOULD TRY TO SUPPORT THESE  BUSINESSES AS MUCH AS POSSIBLE. IF YOU ARE IN  THEIR STORES THANK THEM ON BEHALF OF THE OCBS.
2014 OCBS EXPO DONOR LIST
LAKE ERIE ULTIMATE ANGLER 3737 W 12RTH ST ERIE, PA. 16505 1-814-833-4040
ELK CREEK SPORTS   10543 OLD LAKE RD. LAKE CITY, PA. 16423  1-814-774-8755
VICS SPORTCENTER   2039 TALLMADGE RD. BRIMFIELD, OH. 44240   330-673-7600
PIPE RACK  2200 MANCHESTER RD. AKRON, OH. 44314 330-745-9022, FX330-745-9342
SHINES BAIT & TACKLE 1287 E.55TH  CLEVELAND, OH. 44103  216-431-9090
KAMES 8516 CLEVELAND AVE. N  N. CANTON, OH. 44720   330-535-2637
SNUG HARBOR 1021 BROAD ST. CONNEAUT, OH. 44030  1-440-593-3755
GREEN ROOF INN   8790 RT. 18  GIRARD, PA. 16417   1-814-774-7072
POOR RICHARDS   6821  W. LAKE RD. FAIRVIEW, PA. 16415 1-814-474-5623
FOLLY'S END   8600 RT. 98 GIRARD, PA.  16417   1-814-474-5730
FISH USA   6960 W. RIDGE RD. FAIRVIEW, PA. 16415   1-800-922-1219
HARBOR BAIT & TACKLE 786 RICHMOND ST.PAINESVILLE, OH.  44077 1-440-354-8473
ORVIS  28839 CHAGRIN BLVD. WOODMERE, OH. 44122   1-216-591-1681
TROUT RUN BAIT & TACKLE 7490  W. LAKE RD. FAIRVIEW PA. 16415  1-814-474-3902
THE GREAT OUTDOORS STORE 6287 S. MAIN ST. KINGSVILLE OH. 44068  1-440-224-1111
ERIE OUTFITTERS 5404 LAKE RD. SHEFFIELD LAKE, OH. 44059  1-440-949-8934
GREG SENYO  STEELHEAD ALLEY OUTFITTERS  1-888-453-5899
JAKE MARKHAM BOX 514 BRETON, AB TOCOPO  CANADA
OCBS Championship Series and Fly Outings for 2014-2015
This year our Championship Series Outing is sponsored by the Rodmakers Shop who has sponsored our Series Outing in the past.
New this year, our Championship Fly Outing is being sponsored for the first time by The Backpackers Shop in Sheffield Village.
Check in for all of our Outings will still be at Erie Outfitters on the West side and Harbor Bait and Tackle on the East Side. See the outing pages for rules and check in locations and times.
The Dates for the Championship Outings are as follows:
CHAMPIONSHIP SERIES
23 November 2014; 14 December 2014; 15 March 2015
CHAMPIONSHIP FLY FISHING:
26 October 2014; 29 March 2015