October O.C.B.S. Membership Meeting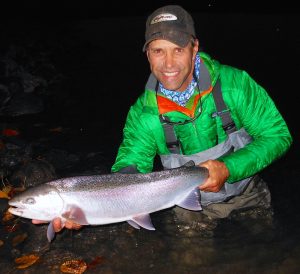 Jeff Liskay
Guide, Instructor, Presenter
7 Landings Way, Avon Lake, Ohio, 44012
440-781-7536
Jeff Liskay has been a self- admitted steelhead junkie for nearly four decades.
From his home base in northern Ohio, Liskay has fished across the entire Great Lakes and is now reaching into Alaska, Oregon, Washington, British Columbia, and beyond.  He is well recognized for both his two-hand casting and fishing skills and is a regular on the Spey gathering circuit as both an observer and a presenter.
Liskay spends the warmer months prowling Great Lakes shoreline areas chasing warm-water species on the fly, but as the weather cools steelhead take over.  He is considered one of the top guides on Ohio's Lake Erie tributaries and is also in high demand as a Spey casting instructor. He is an established speaker and presenter, giving numerous club and show programs each year. Jeff is also a talented fly tier- his creations are generally simple, functional, fish catchers.
Liskay is a Patagonia Fly Fishing Ambassador and a Pro Staff member for a number of companies, including Scientific Anglers and Scott Fly Rods. He has been featured in books and magazines, on television, and in podcasts for his angling skills. Liskay owns and operates Silver Fury Guide Service and Schools, where he focuses on the use of two-hand rods and swung flies for migratory fish.

OCBS 23nd ANNUAL EXPO 
We want to take this opportunity to thank all the presenter, Vendors,
and volunteers and the organizations that donated goods
and services to our annual raffle.
2016 OCBS EXPO Volunteers:
Tom Blotzer, Wael Dardir, Al Marotta, Larry Singleton,
Ron Zipay, Jose Sanchez, Pete Kalkin, Monte Casey,
Paul Duenk, Bob Brunner, John Beedlow,
Jim Berryman, Gene Loschiavo, Les Ober, Joe Moravec,
Mike Durkalec, Gene Post
A SPECIAL THANKS GOES OUT TO ALL THE VENDORS & INDIVIDUALS
WHO DONATED TO 2016 EXPO. AS MEMBERS WE SHOULD TRY TO
THESE SUPPORT BUSINESSES AS MUCH AS POSSIBLE. IF YOU ARE IN
THEIR STORES THANK THEM ON BEHALF OF THE OCBS.
2016 OCBS EXPO DONOR LIST
ELK CREEK SPORTS   10543 OLD LAKE RD.   LAKE CITY, PA. 16423                                                 1-814-774-8755  DAN
KAMES 8516 CLEVELAND AVE. N  N. CANTON, OH. 44720                                                                  330-535-2637  Matt
SNUG HARBOR 1021 BROAD ST. CONNEAUT, OH. 44030                                                                     1-440-593-3755  Jack
GREEN ROOF INN   8790 RT. 18  GIRARD, PA. 16417                                                                   1-814-774-7072  SCOTT & MARY
POOR RICHARDS   6821  W. LAKE RD.  FAIRVIEW, PA. 16415                                                     1-814-474-5623  GARY
FOLLY'S END   8600 RT. 98 GIRARD, PA.  16417                                                                         1-814-474-5730 JIM     follyend@velocity.net                            
FISH USA   6960 W. RIDGE RD. FAIRVIEW, PA. 16415                                                                    1-800-922-1219  DAN
HARBOR BAIT & TACKLE   786 RICHMOND ST.  PAINESVILLE, OH.  44077                                      1-440-354-8473 DON MOORE
ERIE OUTFITTERS 5404 LAKE RD. SHEFFIELD LAKE, OH. 44059                                                    1-440-949-8934  CRAIG LEWIS erieoutfitters@yahoo.com
VOODOO CUSTOM TACKLE TOM ANDREWS  voodoocustomtackle.com
2016-2017 CHAMPIONSHIP SERIES
TOURNAMENT DATES
       30 October 2016   27 November 2016     18 December 2016
                      19 March 2017                  9 April 2017
CHECK IN STATIONS
EAST SIDE                                           WEST SIDE
Harbor Bait & Tackle                  Erie Outfitters
786 Richmond Street                             5404 E. Lake Road
Painesville, Ohio 44077                        Sheffield Lake, Ohio 44054
(440) 354-8473                                      (440) 949-8934
Signup sheets will be available at the September 2016 membership
meeting for those members who want to participate in this season's
steelhead tournament. You can also sign up at the Rodmaker's Shop
in Strongsville.
Entry fee: $15.00 per participant.
Be sure to consult the Tournament Rules posted on the OCBS website.
John Beedlow
Outing Director
9-6-2016