OCBS April 2014 Membership Meeting—-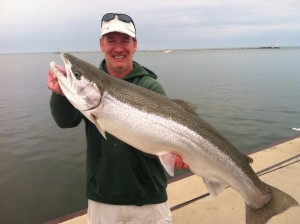 Dave Dyer
of Indiana will be our speaker at the April 17, 2014 Membership Meeting at the Ampol Club, on Pearl Road in Cleveland.
Dave has fished for the Indiana summer run Skamania successfully in Trail Creek and Michigan City Indiana during the early summer for many years. If you want to catch steelhead in June and July that may be a good choice.
__________________________________________________
OCBS Incentive Raffle
We will hold our 2014 Members Incentive Raffle at the April Meeting. If you volunteered and worked any of our club sponsored events such as Healing Waters, any kids day program, river cleanups, and many others you are automatically entered into this raffle. We have some excellent prizes again this year.
__________________________________________________
OCBS FLY 2014 Outing Awards and Raffle
 The leaders of the second fly outing date held April 13, 2014 will be announced and recognized. We will also announce the overall leaders of the fly outing, first, second and third place finishers. Currently no one is in third place, due to the poor fishing conditions during the first fly outing. Good luck to all.
We will also have a raffle for a few prizes donated by out outing sponsor at the Rodmakers Shop in North Royalton. We thank them for their continued support. Please support all our local tackle and fly shops for your fishing needs.
__________________________________________________
2014 Healing Waters Program
The Ohio Central Basin Steelheaders and Pine Lakes Trout Club will be sponsoring the 3rd annual PHW fly fishing event on Sunday June 1st at the Pine lakes Trout Club. This event is to honor the deserving past and present members of our armed forces who have made great sacrifices in the service of our nation.
What! You haven't heard about the OCBS involvement with PHW, let me explain! Project Healing Waters Fly Fishing is an organization dedicated to the physical and emotional rehabilitation of disabled active military service personnel and disabled veterans through fly fishing and associated activities including education and outings.
Did you know………the OCBS has held PHW raffles at monthly membership meetings this past year. As a result we will be giving away 2 complete premium fly fishing outfits (5 weight fly rod, matching machined and ported reel, backing, and fly line), fly boxes (up to 30), hand tied flies (donated), as well as a number of other gifts to the wounded vets attending this year's event. THANK YOU OCBS MEMBERS FOR YOUR GENEROUS SUPPORT!
One final note, WE NEED OCBS VOLUNTEERS to assist with this outing! We expect between 25 to 30 veterans and need at least one volunteer per veteran: wheelchair bound veterans need two volunteers. Please consider signing-up at our April meeting for this worthwhile event on June 1st!…….Bob Hajek
__________________________________________________
OCBS and ODNR DOW to Donate $3,200 to Medina Metroparks and $7,400 to Cleveland Metroparks
OCBS and the ODNR Department of Wildlife has teamed up to support the following children's fishing, education and conservation programs.
Medina Metroparks Earth Day on April 26 – $1600
Medina Metroparks Kid's Fishing on May 3 – $1600
Cleveland Metroparks Wallace Lake Kid's Fishing Day on May 17 – $2700
Cleveland Metroparks Erie Canal Kid's Fishing Day on May 18 – $2700
Cleveland Metroparks Youth Outdoor Odyssey on October 11 – $2000
__________________________________________________
OCBS SPRING ACTIVITIES
Spring comes along and the Steelhead start running, the grass grows, trees awaken from their winter sleep and many, many activities are coming along, to help us celebrate the end of a tough winter and welcome the sun. Most of these activities count toward the Members Incentive Raffle, that will be held next April 2015. So take a break from the yard work and help out where ever you can.
May 10 Lake Metropark Arnie's Anglers Kids Fishing Derby
May 17 Conneaut Creek Clean Up, CLO Field
May 17 Cleveland Metropark Kids Fishing Derby – Wallace Lake
May 18 Cleveland Metropark Kids Fishing Derby – Ohio & Erie Canal
May 18 Grand River Clean Up, Hidden Valley Metropark
May 24 Ken Mantkowski Handicapped Fishing Day
Jun 1 Healing Waters – Pine Lake Trout Club