OCBS November Speaker is Brian Kelly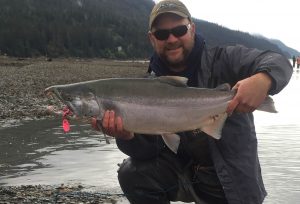 Michigan native and current Pennsylvania resident Brian Kelly has been chasing salmon and steelhead throughout the Great Lakes, Pacific Northwest and Alaska for more than 20 years. A die hard egg junkie, Kelly is always testing new egg curing techniques and colors during his travels. His current digs are in the heart of the chrome rich waters of Lake's Erie's Steelhead Alley, where the never ending task of finding the perfect egg takes place each fall, winter and spring. Annual jaunts to Alaska provide a unique testing ground for mixing Great Lakes and Pacific Northwest tactics on the Coho, Kings and native rainbows that reside on the last frontier. Kelly is a free lance outdoor writer whose works can be found in such publications as Great Lakes Angler, Outdoor Life, Lake Ontario Outdoors and many others.
OCBS ANNUAL CHRISTMAS
This years Christmas Party will be held at Buffalo Wild Wings
on Pearl Road in Strongsville. It is the same location as last year.
We will have a Chinese auction and a rod and reel card raffle.
Check out all your fishing gear and bring a donation if you can.
It will be greatly appreciated by all.
As last year members are $10.00 and guests are $15.00.
We will have plenty of food for everyone.
We are limited to 100 people in the room so get your
reservations in as soon as possible. John Beedlow is taking
reservations, or you can make reservations at the November
Membership meeting at the at the Firehouse this month. His contact info is 440-840-2774 0r email at jbeedlow2@roadrunner.com
OCBS STEELHEAD TOURNAMENT
  OCTOBER LEG RESULTS
The October Leg of the OCBS Steelhead Tournament was held on Sunday 30 October 2016. An overcast day with scattered showers, thunderstorms and windy conditions. Not a comfortable day on Steelhead Alley resulting in low numbers of fishermen being on the streams.
Those anglers that braved the weather found few numbers of fish in the streams.
The majority of streams were not in prime condition, some low and some high with marginal visibility. Streams were relatively leaf free.
A total of five fish were checked in for the tournament. All fish were caught in the eastern streams or off the eastern break walls/ pier heads.
Congratulations to John Smoggie who placed first with a two-fish total of 50.75 inches in length. Ken Harper and John Rhoades placed second and third respectively.
OCBS Championship Steelhead Tournament 
30 October 2016

 
FISH      FISH        TOTAL
#   Name                     #1       #2        LENGTH
1   Smoggie John        26.75     24         50.75
2   Harper Ken            25.5      24.75     50.25
3  Rhoades John         24.25                  24.25
2016-2017 CHAMPIONSHIP SERIES
TOURNAMENT DATES
       30 October 2016   27 November 2016     18 December 2016
                      19 March 2017                  9 April 2017
CHECK IN STATIONS
EAST SIDE                                           WEST SIDE
Harbor Bait & Tackle                  Erie Outfitters
786 Richmond Street                             5404 E. Lake Road
Painesville, Ohio 44077                        Sheffield Lake, Ohio 44054
(440) 354-8473                                      (440) 949-8934
Signup sheets will be available at the September 2016 membership
meeting for those members who want to participate in this season's
steelhead tournament. You can also sign up at the Rodmaker's Shop
in Strongsville.
Entry fee: $15.00 per participant.
Be sure to consult the Tournament Rules posted on the OCBS website.
John Beedlow
Outing Director
9-6-2016