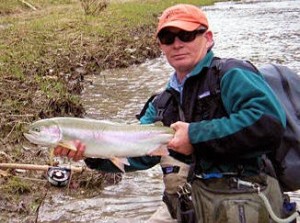 Jerry Darkes is our speaker for our March 27th, 2014 meeting at the Firehouse in Willoughby Hills. Jerry is a fly tackle sales rep, instructor/guide, and writer based in northern OH.
He has over 4 decades of fly fishing experience in both fresh and saltwater and is recognized as an expert on Great Lakes steelhead and warm water fly fishing. He is a well-known fly tier and has created a series of instructional fly tying DVDs focusing on Great Lakes steelhead and other gamefish.
He recently published his first book Fly Fishing the Inland Oceans: An Angler's Guide to Finding and Catching Fish in the Great Lakes.
Spring Fling At Pine Ridge Country Club
OCBS members have supported and attended this event in the past. Previously it was called The Steelheaders Ball. Everything is the same except for the name. Check out the PDF at the end of this article for more info.
On Saturday March 29, 2014 Citizens for Lake Metroparks will host its first annual Spring Fling at Pine Ridge Country Club in Wickliffe, Ohio. We would love to have you join us!
Thanks to the support of people like you and other voters in Lake County, Lake Metroparks contributes to our quality of life and is one of the reasons Lake County is such a special place to live, work and raise a family.
The parks continue to provide clean and safe places for visitors of all ages to enjoy the outdoors whether it be a quiet walk in a park, attending one of the parks' numerous programs or visiting the Farmpark, Fairport Beach or Penitentiary Glen for one of their signature events. There is something for everyone in our parks!
As you may know, Lake Metroparks will have a renewal levy on the ballot this May. The renewal is NOT a tax increase. Passage of the levy will allow the parks to maintain the high quality parks and programs that the citizens of Lake County have come to expect from their parks. This levy makes up approximately 70% of the park's operating budget.
Your participation as a sponsor, donor or attendee of our Spring Fling is a crucial part of our fundraising efforts. In exchange, you or your business will gain extra visibility and recognition while helping to make this a quality event.
Proceeds from the Citizens for Lake Metroparks annual Spring Fling and other fundraising events are used to support future levy campaigns to maintain our outstanding park system. We thank you in advance for your interest and enthusiasm in support of Citizens for Lake Metroparks.
Click here to view Invitation PDF! Spring Fling invitation
~~~~~~~~~~~~~~~~~~~~~~~~~~~~~~~~~~~~~~~~~
An Article Regarding Additional Steelhead Access By Lake Metroparks
By Jeffrey L. Frischkorn
Lake Metroparks is going to make life easier for Northeast Ohio steelhead anglers.
The agency's three park commissioners have agreed to spend $900,000 in order to increase the park system's land holdings with a trio of purchases, two of which will either increase fishing opportunities or better allow for access along the immensely popular Grand River watershed.
Among the buys is a 35-acre parcel that will dovetail into the parks system's existing 59-acre Beaty Landing in Painesville City and hard-pressed to Painesville Township. This chunk of real estate abuts the Grand River in a location long coveted by steelhead – and steelhead anglers.
This parcel is costing the agency $410,000 with the money already having been pigeonholed by the parks system's three commissioners.
Popular in autumn with anglers testing the waters for the first migrant trout of the season, the area really comes into its own during late winter and early spring. That is when the steelhead set up housekeeping by building their spawning sites, called "redds."
Frequently when the river's flow level and clarity are prime, steelheaders can actually sight fish for the trout; definitely the most eagerly sought-after method for many fly-rod-equipped anglers.
"The property constitutes the rest of the oxbow floodplain and consists of that land east of what we now own," said Paul Palagyi, the parks system's executive director. "Unfortunately for a lot of folks who'd like to fish Beaty Landing or just go for a walk, there is the steep hill that people have to negotiate now."
With the new add-on park visitors will be able to access the flood plain at river level without becoming a mountaineer to do it, Palagyi said.
"We've also discussed partnering with the Ohio Department of Natural Resources, maybe putting in a paddlesport landing," Palagyi said. "That way someone wanting to take a short float can stop at Painesville Recreation Park just downstream or make a longer day of it and paddle to our Grand River Landing boat launch and go through some of the best steelhead fishing holes in the lower Grand River."
Further up the Grand River in Madison Township and then a jaunt into Mill Creek valley leads one to the next purchase. This one consists of 42 acres and cost $400,000 with the money already built into the federal budget and set aside there by now-retired U.S. Rep. Steve LaTourette.
It sits adjacent to the parks system's 578-acre Hogback Ridge Park.
If the Grand River's reputation revolves around big-water steelhead fishing than Mill Creek is at the top of the list for small stream finesse trout fishing. This is where careful stalking, precise casting, fine tippets and small flies are often called for in order to catch steelhead.
Just one problem. It is a dickens to access and requires a long march down an old trail or else a haul down a wooden staircase that is sure to leave a wader-clad angler huffing when the decent or ascent is completed.
The new land buy will make that hard work a bit easier to accomplish, says Palagyi.
"What we're buying is the property adjacent to Hogback's existing parking lot which will allow us to develop much better access to Mill Creek," Palagyi said. "Importantly, too, the field there will mean we can expand the existing parking lot, which really isn't very large. Often during the peak of the steelhead fishing season or when the wildflowers are in bloom the existing parking is full and then some."
A much smaller in-holding the agency is buying straddles the parks system's largest unit, the 935-acre Girdled Road Reservation in Concord Township.
This piece is costing the agency $155,000 with the money having been bankrolled in anticipation of the land being bought.
"The property is where we have a trail entrance to one of our more popular camp sites but right now it's a tight squeeze," Palagyi said.
Palagyi said as well that in a day and age when government is stressed by shrinking budgets and taxpayers squeezed just as much, buying land still makes sense.
That is, if the sale price is right, the agency doesn't have to break the bank and the purchase truly fits within the message of the parks system's mission, Palagyi says.
Palaygi did note as well that all three property buys still must go through the legally required real estate vetting process. It likely will take at least several months before any of them are opened, Palaygi said.
"It has always been from Day One of Lake Metroparks' existence to preserve and protect important properties for today and for the future," Palaygi said. "And we've always considered as priorities property along Lake Erie, the Chagrin and Grand River corridors or else adjacent to parks we own now. These acquisitions easily fit within those parameters."
~~~~~~~~~~~~~~~~~~~~~~~~~~~~~~~~~~~~~~~~~
Notice To All Ohio Fishermen
COLUMBUS, OH - Ohio's 2014-2015 fishing, hunting and trapping licenses will be available for purchase beginning Saturday, Feb. 22, according to the Ohio Department of Natural Resources (ODNR).
Ohio's 2014-2015 licenses will be valid immediately upon purchase through Feb. 28, 2015. Ohio's 2013-2014 licenses are valid through Feb. 28, 2014. White-tailed deer and fall wild turkey hunting permits will go on sale later in 2014.
The prices for Ohio's hunting, fishing and trapping licenses and permits are unchanged from 2013-2014.
Licenses and permits can be purchased online at wildohio.com and at hundreds of participating agents throughout the state. A complete list of participating license sales agents can be found at wildohio.com. Mobile fishing licenses will also be available beginning Saturday, Feb. 22.
Ohio's 2014-2015 licenses include a transaction receipt and effective dates that match the fishing, hunting or trapping season. Licenses and permits are printed on plain white paper that is not waterproof. Licenses and permits will be printed with additional information relevant to the license or permit purchased.
~~~~~~~~~~~~~~~~~~~~~~~~~~~~~~~~~~~~~~~~~

7th Annual OCBS Steelhead Workshop
The meeting was a great success and we appreciate all of our members and guests that took part in our programs for the evening.
Thanks to Jeff Liskay, Jerry Darkes, Ken Harper, Paul Deunk, Jeff Zofchak, Les Ober, Eric Lindstrom ( Backpackers in Sheffiedl), Larry Singleton, Dave Esner, George Grether,Joe Santoli, Anthony Dickard, Dennis Vidmar, Monte Casey, Jim Lampros ( Orvis Woodmere) and the Reps ( Jeff & Jeff) from Berkley Pure Fishing.
 Check Out our Website and Events Calendar