April OCBS Membership Meeting
Steve Brugger
Fishing the PA Shore for Steelhead & Smallmouth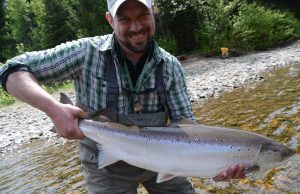 Steve Brugger began guiding for trout, steelhead and smallmouth in 1998 in Pennsylvania by accident after hanging out in fly shops too much. For 11 years, Steve owned Lake Erie Ultimate Angler, a fly shop in Erie Pennsylvania, and he is now the manager of the Orvis Shop at Crocker park in Westlake, OH. Steve will make a presentation focused on fly fishing for steelhead and smallmouth bass in the Lake Erie PA shore areas including Presque Isle. Steve has a lot of good information to share with us. This should be another great meeting that you will not want to miss
Raffle: 6/7 Weight Custom Fly Rod with Tioga Fly Reel
Meeting Buffalo Wild Wings
Location 8465 Pearl Road
Strongsville, OH 44136
440-243-9464
Date and Time: Thursday April 19, 2017 at 7:30 PM
---
Castapalooza 2018
A Celebration of All Things Fly Fishing!
Fly Casting and Tying Demos, Displays, and More!
Saturday, April 14, 2018 9:00 AM to 4:00 PM
Free of Charge and open to the Public!
Lake Metroparks Hidden Valley Park on the Grand River- Madison, OH
I-90 Exit 212- south on Rt. 528 over the Grand River, right on Klasen Rd.
For complete info and schedule check out facebook.com/jdcastapalooza.
---
Conneaut Creek Clean Up
Saturday May 5, 2018
Ohio Central Basin Steelheaders and Friends of Conneaut Creek are teaming up to organize a clean up on Conneaut Creek on Saturday May 5, 2018. We will meet at 8 a.m. at the CYO baseball fields on Center St. in Conneaut.
Volunteers will be split into several groups to clean up as many sections of Conneaut Creek as possible. We will supply all the necessary gloves and trash bags. Friends of Conneaut Creek will provide lunch.
We will have a sign up sheet at the March and April meetings.
---
Grand River Clean-Up
Saturday May 19, 2018
Join the Western Reserve Land Conservancy for a unique volunteer event! Hike, canoe or kayak along the wild & scenic Grand River while gathering unwanted waste along the way. We have found tires, beds, and many treasures during our 18 years of cleaning up the river.
This event will happen rain or shine. If weather and river conditions are unsafe, we will only hike local trails and cleanup waste and invasive species.
Spots in canoes are limited. First to register will be the first assigned to a spot in the river. If those interested in a land based clean up, you to hike local trails cleaning up the banks with a Land Conservancy staff member.
We will meet at the Hidden Valley Metro Park on 4902 Klasen Road in Madison, OH 44057 at 8 AM. Cleanup will run from 8 AM to about 2 PM.
If planning to attend, please register in advance at the Western Reserve Land Conservancy web site at https://www.wrlandconservancy.org/event/grandriver18/
---
Rocky River Clean Up
Saturday June 2, 2018
OCBS volunteers are needed to pick up streamside trash and get involved in the stewardship of the Rocky River Watershed!
Meet at Scenic Park Picnic Area by Emerald Necklace Marina in the Cleveland Metroparks Rocky River Reservation on Saturday June 2nd at 8:00 am.
Be sure to stick around after the cleanup for a cook out at about noon.
---
Black River Clean Up
Saturday May 5, 2018 and Sunday May 6, 2018
Check-in begins at 9:00am
Lunch starts at 2:00pm
Meet at Lakeside Landing & the Eastside Industrial Park
Check-in Locations:
Lakeside Landing, 301 Lakeside Ave. Check-in tables are up on the grassy hill in the pavilion.
Eastside Industrial Park (aka Cromwell/ old dump) Missouri Ave. & Colorado Ave. Go south on Missouri past Colorado. where the road is normally closed (by Drug Mart). There will be signs.
---
Phil Hillman Conneaut Creek Access Area
Dedication Event
April 14, 2018
Long time OCBS member and Ohio Division of Wildlife district 3 fisheries manager, the late Phil Hillman, spent most of his 30 year plus career as a staunch advocate of the Ohio steelhead fishery and public access to our creeks and rivers. In honor of his life and devotion to steelhead fishing, a new Conneaut Creek access area will be named after him.
The access area which consists of a parking lot and path to the creek is located on South Ridge Road east of Route 7. The GPS coordinates are 41°54'05.2″N 80°34'00.8″W
On Saturday, April 14 at 11 AM, the DOW is hosting a dedication event at the access area for Phil's family, friends, OCBS members and local Steelheaders. OCBS is providing refreshments and a light lunch
---
Cleveland Metroparks Children's Spring Fishing Derbies
The Cleveland Metroparks Kid's Fishing Derbies will be held on May 19th and 20th as follows:
Saturday, May 19, 2018 Sunday, May 20, 2018
Ohio & Erie Canal Wallace Lake
Ohio & Erie Canal Reservation Mill Stream Reservation
Cuyahoga Heights, OH Berea, OH
Fishing Sessions:
Ages: 4-8 – 9 a.m. to Noon
Ages: 9-15 – 1 to 4 p.m.
If you are interested in helping with the Kid's Fishing Derby this year, please contact Tom Blotzer at 216-701-4227 or Mike Durkalec at 216 – 701 – 7634. You can also
---
Arnie's Anglers Kids Fishing Derby at Lake Metroparks
Arnie's Anglers Kids Fishing Derby will be held Saturday May 13, 2018 at Hidden Lake which is located at the Outdoors Skills Center 7024 Kniffen Road Leroy Township, OH 44077 from 9:00 – 11:30 am with volunteers asked to arrive by 8:30 am.
We will have a signup sheet at our April membership meeting for any members who want to help.
---
2017 – 2018 OCBS Championship Steelhead Tournament Final Results
Congratulations to John Rhoades; First Place Winner of the OCBS 2017-2018 Championship Series Steelhead Tournament. John's largest six fish total measured 163.25 inches.
Brad Vaughn placed Second with six fish totaling 160.75 inches in length. Ken Harper came in Third with six fish measuring 157.25 inches in length.

John Beedlow, Awards will be presented at the 19 April 2018 Membership Meeting followed by the Tournament Raffle. The top prize will be a St Croix Avid Spinning rod valued at $280 and 5 tackle packs full of steelhead tackle.
Thanks to Craig Lewis at Erie Outfitters for providing discounted tackle for out tournament prizes . We appreciate your support.
Please mark your calendar and plan on attending the meeting at BW3 in Strongsville for the award presentation and raffle.
I would also like to extend a special thanks to all who participated in the our OCBS members only steelhead tournament this year. I hope you enjoyed the event.
Tournament Director
---
Membership Application
Ohio Central Basin Steelheaders
P O Box 29577
Parma, OH 44129
Dedicated to the Protection and Promotion of Steelhead Fishing in the State of Ohio and the Great Lakes Region
[ ] $25 Individual Membership or [ ] $35 Family Membership
[ ] $18 Salmon Trout Steelheader Magazine Subscription ($29.95 Value)
[ ] $14 Great Lakes Angler Magazine Subscription ($19.95 Value)
[ ] $12 Fly Fishing and Tying Journal Subscription ($18.95 Value)
(Magazines are optional and offered as a service to our members)
Name: __________________________________________________
Street: __________________________________________________
City: ____________________________State: _____Zip: __________
Area Code and Phone: _____________________________________
Email Address: ___________________________________________
I want my OCBS Newsletter delivered by [ ] Email [ ] US Postal Service