OCBS Outing Series Update:
The first series fishing outing has been changed to November 1st, 2015. This was done to allow our west side club members to sign up at the October 29th membeership meeting at Buffalo Wild Wings. We need at least 25 members to sign up in order to be able to hold the Chapionship Series again this year. You can also sign up at this weeks EXPO.

OCBS 22nd ANNUAL EXPO  Saturday October 3rd, 2015
We help kick off our new Steelhead season with our 22nd, (yes 22nd!) O.C.B.S. Steelhead Expo. This year we are again fortunate to be able to hold this event at Rocky River Nature Center, in association with Cleveland  Metroparks. The date is Saturday, October 3rd, 2015 from 9:30am – 4:00pm. We will have expert advice for all Steelheaders no matter what style of fishing you prefer, spin, fly, centerpin or spey. We will have all the experts to help you improve your steelhead fishing techniques. I hope to see you there. As usual, we do need thehelp of some of our club members to put on this great event.
 Steelhead Seminars (Schedule may Change)
9:00 am —9:30 am Steelhead Fisheries Update Phil Hillman  Update Of The State Of Ohio's 2015-2016 Steelhead Fishery by O.D.N R. representatives.
10:00 am —11:00 am Gearing Up For Steelhead Wael Dardir  Unraveling the mystery of steelhead fishing, Methods, tools and tips to help you become a successful Steelheader. Baits, lures, lines, and more!
11:30 am — 12:30 pm River Basics with Les Ober Unraveling the mystery of steelhead movement Reading Water Under Varying Conditions
1:00 pm — 2:00 pm Advanced Float Fishing For Steelhead Mike Durkalec  Advanced methods for float fishing tips and techniques.
2:30 pm — 3:30pm Fly Fishing for Great Lakes Steelhead Dan Pribanic  Advanced methods for fly fishing, Fly fishing tips and techniques The best steelhead flies
 

OCBS Healing Waters Event Update
OCBS held the 2015 Healing Waters Event for Veterans on June 3rd 2015 at Pine Lake Trout Club.It was a beautiful sunny Sunday with pleasant breezes and great comeraderie. We had about 25 Veterans attend and about the same number of volunteer members to help them. We were fortunate that many Veterans caught fish on the day and all had a great time. We want to thank Pine Lake and their great staff for great food and assistance throughout the day. Our volunteers also made it a great day for our veterans. We also need to thank the ODNR for the use of their fly rods for the day as well as everyone that donated flies for the Veterans use.
A NEW YEAR !
Welcome Back Everyone! The new 2015 O.C.B.S. Steelhead Season Is about to begin. We hope everyone had a great summer and is looking forward to some great meetings and activities that are planned for this year.
OCBS SEPTEMBER SPEAKER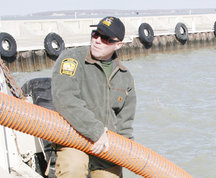 Our first meeting is at the Firehouse in Willoughby Hills, September 24th, 2015 @ 7:30pm. Our scheduled speaker is Kevin Kayle, the Hatchery Manager of Ohio Fish Hatcheries, including the Castalia Hatchery Kevin always keeps us up to date on the Steelhead Program    and the forecast for the coming season. He is always informative regarding our fishery.
Kevin advised the members that there is a problem getting steelhead eggs from Michigan this year. with great effort the O.D.N. R. was able to obtain 400k+ of Chambers Creek eggs from other sources. Additional strains were also obtained.
Basically, through the efforts of the O.D.N.R. we will have fingerlings stocked in our rivers this spring. While not the Little Manistee Strain, they are still steelhead and at least we will not have missed a complete year of steelhead stocking! We certainly appreciate the efforts Of the O.D.N. R. to provide fish for next years stocking!
 

OCBS Championship Series 2015-2016 Changes
The OCBS Board of Directors would like to announce changes to the 2015-2016 Steelhead Outing Program. The Club was unable to find a sponsor for the Fly Fishing Outing therefore it will be canceled this season.
Fly Fisherman are encouraged to participate in the Championship Series Outing which will be expanded for from three to five monthly legs as. This change offers greater fishing opportunities and allows for a total of 10 fish to be entered into the end of series raffle. A total of two steelhead 24" or greater in length can be checked-in for each outing leg; however only 6 out of a possible 10 fish will determine the overall winners. Due to limited sponsorship the Outing's entry fee will be $15.00 per participant.
The more people that participate in the event the more substantial the prizes will be for the end of series drawing. As a minimum the winner of each monthly leg will receive an OCBS plaque engraved with his name. The overall first place winner will receive an OCBS sterling silver belt buckle in addition to an engraved plaque. The second and third place overall winners will each receive an engraved plaque. The end of series drawing will be held at the April 2016 General Membership Meeting.
Each Outing participant will receive a raffle ticket for signing up. An additional raffle ticket will be earned for each fish checked-in during the series. A total of 11 raffle tickets can be earned. (Entry fee ticket, plus up to 10 tickets per fish checked-in.) This year's raffle prizes will be determined by the number of members participating in the outing. As a minimum the end of series drawing will consist of $100.00 worth of gift certificates. The more members that sign up the greater the number of gift certificates. All funds generated through entry fees will be utilized for awards and raffle prizes. A 100 percent return to outing participants.
CHAMPIONSHIP SERIES
MONTHLY OUTINGS
1 November 2015,  22 November 2015,  20 December 2015
20 March 2016,   3 April 2016
CHECK IN STATIONS
EAST SIDE                                                          WEST SIDE
Harbor Bait & Tackle                                           Erie Outfitters
786 Richmond Street                                           5404 E. Lake Road
Painesville, Ohio 44077                                 Sheffield Lake, Ohio 44054
(440) 354-8473                                                   (440) 949-8934
Signup sheets will be available at the September 2015 membership meeting for those members who want to participate in this season's steelhead outings.   You can also sign up at the Rodmakers Shop in Strongsville.
Entry fee: $15.00 per participant.
Be sure to consult the steelhead outing rules which are posted on the OCBS website.
John Beedlow Outing Director 7-9-2015