O.C.B.S. Thanks! 
As our Steelhead Season comes to a close and we change our focus to other species in the Great Lakes such as Walleye, Smallmouth, Musky, Perch and more.
We still have many activities in the month of may such as Lake, Cleveland and Medina Metroparks Kids Days, River Cleanups an our Healing Water program. Take a look at our calendar, you are welcome to get involved!
We thank ALL the members of our board of directors and the many volunteer members, for all the work that they have done to provide our members, and the general public, with many great monthly programs and club activities such as our EXPO and fishing events.
2014 Healing Waters Program
The Ohio Central Basin Steelheaders and Pine Lakes Trout Club will be sponsoring the 3rd annual PHW fly fishing event on Sunday June 1st at the Pine lakes Trout Club. This event is to honor the deserving past and present members of our armed forces who have made great sacrifices in the service of our nation.
What! You haven't heard about the OCBS involvement with PHW, let me explain! Project Healing Waters Fly Fishing is an organization dedicated to the physical and emotional rehabilitation of disabled active military service personnel and disabled veterans through fly fishing and associated activities including education and outings.
One final note, WE NEED OCBS VOLUNTEERS to assist with this outing! We expect between 25 to 30 veterans and need at least one volunteer per veteran: wheelchair bound veterans need two volunteers. Please consider signing-up at our April meeting for this worthwhile event on June 1st!…….Bob Hajek
__________________________________________________
OCBS and ODNR DOW to Donate $3,200 to Lake Metroparks, Medina Metroparks and $7,400 to Cleveland Metroparks
OCBS and the ODNR Department of Wildlife has teamed up to support the following children's fishing, education and conservation programs.
Medina Metroparks Earth Day on April 26 – $1600
Medina Metroparks Kid's Fishing on May 3 – $1600
Cleveland Metroparks Wallace Lake Kid's Fishing Day on May 17 – $2700
Cleveland Metroparks Erie Canal Kid's Fishing Day on May 18 – $2700
Cleveland Metroparks Youth Outdoor Odyssey on October 11 – $2000
__________________________________________________
OCBS SPRING ACTIVITIES
Below is the list of some spring activities that O.C.B.S. members support every spring. Hopefully you can take a break from the lawnmower and help out at some of these events. You will enjoy the all activities you participate in and see many of your club friends while doing it.
May 10 Lake Metroparks Arnie's Anglers Kids Fishing Derby
May 17 Conneaut Creek Clean Up, CLYO Field
May 17 Cleveland Metropark Kids Fishing Derby – Ohio & Erie Canal
May 18 Cleveland Metropark Kids Fishing Derby – Wallace Lake
May 18 Grand River Clean Up, Hidden Valley Metropark
May 24 Ken Mantkowski Handicapped Fishing Day- Ledge Lake, Hinckley Ohio
Jun 1 O.C.B.S. Veterans Healing Waters Program – Pine Lake Trout Club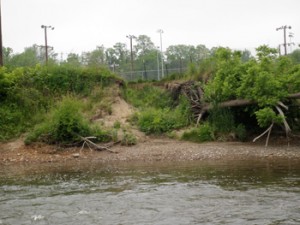 The bank of the Chagrin River near Todd Field (1/4 mile upstream of the Mentor Avenue Bridge) has been severely eroding since 2006.  The main flow of the Chagrin River is directed towards the streambank causing this area to erode.  Most of the vegetation at this location is maintained turf grass, which does not have deep roots and makes this area more prone to erosion.  With assistance from CRWP, the City of Willoughby received a $73,500 Section 319 grant from the Ohio Environmental Protection Agency to address this streambank erosion issue.
The City plans to use bendway weirs to direct flow away from the eroding streambank and towards the center of the channel. Bendway weirs are rock structures that direct flow to the center of the channel. The City will also plant the stream corridor with native trees and shrubs.  The roots of trees and shrubs will help hold soil in place and protect against streambank erosion.  This project will stabilize 214 linear feet of streambank and restore 0.24 acres of stream corridor.
                                       Chagrin River Watershed Partners
Mailing address
P.O. Box 229
Willoughby, OH 44096-0229
Phone: 440-975-3870

Office   location
4145 Erie Street, Suite 203
Willoughby, OH 44094
contact@crwp.org