November Speaker – April Vokey!!
April Vokey is no stranger to fly fishing, a young lady who's career is growing in leaps in the fly fishing industry, where she is a speaker, promoter, fly tier, fishing guide, conservationist and fishing hostess. This very personable young lady is into saving our water and is doing her part to combat its destruction. You can learn more about April at her Blog  http://flygal.ca/blog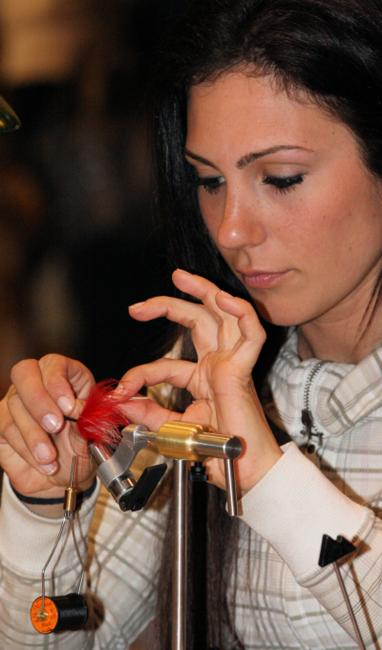 Once again we are happy to announce that our November speaker is April Vokey. Since her last visit she has virtually traveled the world
OCBS brought April to Ohio a couple of years ago to speak at our membership meeting and many members are still talking about her. April taught members to tie the Intruder fly pattern that she represents very well, maybe because this spey fly has class, personalty, beauty and catches fish.
OCBS members have attend fly tying with April and in the past, and we are fortunate to have scheduled her again this year. We are very excited to have her as our November 19th, 2015 speaker at the Firehouse Restaurant  in Willoughby Hills.
 

2015 OCBS Annual Christmas Party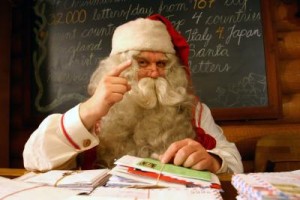 The 2015 OCBS Christmas party will be held on Thursday night December 17th at Buffalo Wild Wings in Strongsville. Last year was another great OCBS Christmas party with lots of fish tales, food and fun. We will have a 2 hour buffet style dinner including pepper jack steak wraps, an assortment of wings, salad, steak fries and non-alcoholic beverages. There will be a cash bar. Cocktail hour starts at 6:30 PM. Dinner will be served from 7:30 to 9:30 PM. Raffles will be at 9:30. The cost is $10 for members and $15 for guests. All members and guests in attendance at the party must pay in advance or at the door. This is because Buffalo Wild Wings will charge OCBS the buffet price for each person in attendance at the party. The party room can hold about 100 people.
The first 100 paid reservations will have first priority on the limited seating. Once the first 100 paid reservations are received, we will try to accommodate members by accepting reservations on a "standing room only" basis. We will have a premium rod and reel raffle, Chinese raffle, and more.  Special deserts and lots of fish stories.
If you want to attend and share some holiday cheers with your fishing buddies, please make reservations by sending an email to ohiocentralbasinsteelheaders@oh.rr.com or by calling Tom Blotzer at 216-701-4227 or Joe Moravec at 216-475-6209. Advanced payment can be mailed to: OCBS P.O. Box 29577 Parma, OH 44129 or you can sign up and pay at the November membership meeting. If you have any questions, comments or concerns, please contact Tom Blotzer at 216-701-4227 or Joe Moravec at 216-475-6209.
2015-2016
OCBS CHAMPIONSHIP SERIES STEELHEAD OUTING
1 November 2015 LEG RESULTS

 
The first leg of the Championship Series Steelhead Outing was held on Sunday 1 November 2015. A partly cloudy day with air temps in the low sixties and minimal leaf fall.  Streams were in good shape and on the drop after a recent rain event which pushed in a fresh run of fish earlier in the week. Water temperatures were in the low fifties and visibility averaged 18-24 inches.  Nearly ideal fishing conditions, but the fish were not cooperative.  Only one fish was checked in for the Outing.  A few anglers landed fish which fell short of the 24 inch minimum length requirement.  A tough day on Steelhead Alley. Congratulations to Tom Krause who placed first with one fish 25.25 inches in length.
 Championship Series
1 Nov 2015 Leg Results
#                     NAME                 Fish #1          Fish #2           Total Length 1               Tom Krause              25.25"                 –                   25.25" 2                                       32 Anglers Tied for Second Place The Second Championship Series Leg will be held on Sunday 22 November 2015. Be sure to mark your calendar for this event.                                                                                                 John Beedlow Outing Director
OCBS Championship Series 2015-2016 Changes
The OCBS Board of Directors would like to announce changes to the 2015-2016 Steelhead Outing Program. The Club was unable to find a sponsor for the Fly Fishing Outing therefore it will be canceled this season. Fly Fisherman are encouraged to participate in the Championship Series Outing which will be expanded for from three to five monthly legs as. This change offers greater fishing opportunities and allows for a total of 10 fish to be entered into the end of series raffle. A total of two steelhead 24" or greater in length can be checked-in for each outing leg; however only 6 out of a possible 10 fish will determine the overall winners.
Due to limited sponsorship the Outing's entry fee will be $15.00 per participant. The more people that participate in the event the more substantial the prizes will be for the end of series drawing.
As a minimum the winner of each monthly leg will receive an OCBS plaque engraved with his name. The overall first place winner will receive an OCBS sterling silver belt buckle in addition to an engraved plaque. The second and third place overall winners will each receive an engraved plaque.
The end of series drawing will be held at the April 2016 General Membership Meeting. Each Outing participant will receive a raffle ticket for signing up. An additional raffle ticket will be earned for each fish checked-in during the series. A total of 11 raffle tickets can be earned. (Entry fee ticket, plus up to 10 tickets per fish checked-in.) This year's raffle prizes will be determined by the number of members participating in the outing. As a minimum the end of series drawing will consist of $100.00 worth of gift certificates. The more members that sign up the greater the number of gift certificates. All funds generated through entry fees will be utilized for awards and raffle prizes. A 100 percent return to outing participants.
MONTHLY OUTINGS
1 November 2015,  22 November 2015,  20 December 2015
20 March 2016,   3 April 2016
CHECK IN STATIONS
EAST SIDE                                                          WEST SIDE
Harbor Bait & Tackle                                            Erie Outfitters
786 Richmond Street                                           5404 E. Lake Road
Painesville, Ohio 44077                                 Sheffield Lake, Ohio 44054
(440) 354-8473                                                    (440) 949-8934
Signup sheets will be available at the all membership meetings for those members who want to participate in this season's steelhead outings.   You can also sign up at the Rodmakers Shop in Strongsville.
Entry fee: $15.00 per participant.
Be sure to consult the steelhead outing rules which are posted on the OCBS website.
John Beedlow
Outing Director
7-9-2015