OCBS January 25, 2018 Speaker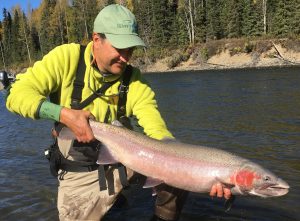 Long time OCBS member, Mitch Nahra, will make a presentation regarding the pursuit of Steelhead trout in British Columbia, the world's premier destination for trophy steelhead. Mitch's will share his experiences on rivers of the Skeena River system including the fabled Bulkley and Babine rivers. The presentation will focus on swinging files in water where double digit fish are not uncommon and any cast could be the next #30 pound fish. He will include techniques used to catch BC steelhead and how they can be used to fish our Great Lakes rivers.
Mitch is a top spey fly fisherman that has a lot of good information to share with his fellow club members.We are expecting high attendance at our January meeting. Be sure to arrive early get a seat and spend some time with fellow club members.
Location: Firehouse Grille and Pub, 2768 Stark Drive, Willoughby Hills, OH 44094
Time: Meeting Starts at 7:30 PM
---
Special Benefit For Dave Esner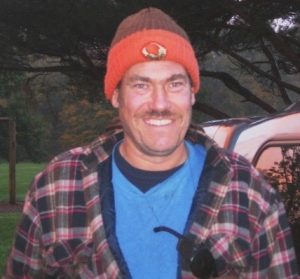 AS many members are aware Dave Esner, an active member for over 30 years, has cancer. he is currently undergoing treatment and we all hope it will be successful. there are never any guarantees with any medical issue except the mounting bills and expenses.
This OCBS-supported benefit is to help raise funds for Dave's expenses.
the benefit is SATURDAY JANUARY 13, 2018 at the CRYSTAL KEG BAR in Parma AT 7:00 to 10:00pm. Donation is $20, of which $10 goes to Dave. The balance covers food and beer for 3 hours. Please come out and support Dave and enjoy an evening with your friends.
---
This February is the OCBS Annual Steelhead Workshop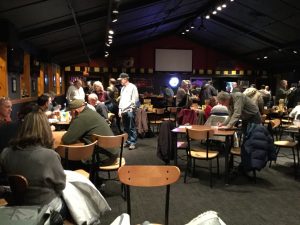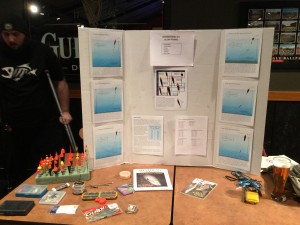 Come and join us in an evening of education, camaraderie and fun. This meeting is one you do not what to miss, the meeting is focused around getting to know your follow members and education. No matter if you have been running up and down the rivers for twenty plus years or just getting started in the game, you will lean something new. We will have eleven learning stations set up around the room covering everything from 101 spin to near shore lake trolling, throw in some fly tying and anything to do with the fish that we love. See you all soon!
Location is Buffalo Wild Wings, Pearl Road, February 22, 2018 at 7:30pm.
Jeff Liskay
---
2018 Northern Ohio Fly Tying Expo
January 20, 2018
The Northern Ohio Fly Fishing Expo, sponsored by the North Coast Fly Fishing Club, is a gathering of expert fly fishers, fly tiers, vendors, non-profits, and the public to explore the sport of fly fishing.
Featuring:
· George Daniel, author of "Dynamic Nymphing"
· Special guest, Dennis Potter, featuring Vise Logic Tying Theater
· Demonstrations by John Rochus and other celebrity and club tiers
The Expo includes:
· Fishing Seminars
· Demonstrations by celebrity fly tiers
· Fly casting demonstrations and mini lessons
· Beginning fly tying
· Vendors of fishing gear, tying supplies, books, classes, fly fishing schools, guiding services, and trips…and much more!
When: Saturday, January 20, 2018 from 9:00 a.m. to 4:00 p.m.
Where: Cuyahoga Valley Career Ctr. 8001 Brecksville Rd Brecksville, OH
Admission Cost: Adults – $10, Youth 13 to 18 – $5, Children – free
---
OCBS Recognizes Craig Lewis Owner of Erie Outfitters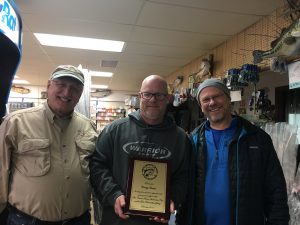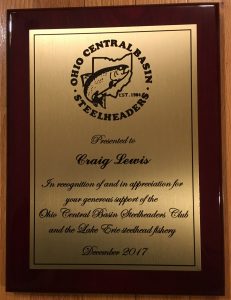 Craig Lewis is a long time supporter of The Ohio Central Basin Steelheaders. His many donations and assistance in various programs such as his support of the kids days programs and the Annual Steelhead Expo. He also acts as a check in station for our members only tournaments.
Many of his efforts ar behind the scenes, so we decided to recognize his participation with OCBS.
Many thanks Craig, we look forward to working with you far into the future.
---
OCBS STEELHEAD TOURNAMENT
17 December 2017 LEG RESULTS
The 3rd Leg of the OCBS Members Only Steelhead Tournament was held on Sunday 17 December 2017. A frigid day with temperatures in the thirties. Several Artic Clippers earlier in the week blanketed the area with significant snow accumulation and caused air temperatures to drop into the single digits during the evenings. Area streams were choked with ice and the deep wintering holes where the fish were holding were ice covered. Few anglers braved the wintery conditions to fish the tournamenT.
A total of 4 steelhead were checked in for Leg 3. Congratulations to John Rhoades and Ken Harper for putting 2 fish each on the board despite unfavorable stream conditions.
NOTE: The previous tournament date in December, the riveeras nd creeks were ll at flood stage and as a result no fish we turned in.
| | | | | |
| --- | --- | --- | --- | --- |
| CHAMPIONSHIP SERIES | | | | |
| STEELHEAD TOURNAMENT | | | | |
| 17 December 2017 Leg Results | | | | |
| | | | | |
| | | FISH | FISH | TOTAL |
| # | Name | #1 | #2 | LENGTH |
| 1 | Rhoades John | 28.000 | 24.125 | 52.125 |
| 2 | Harper Ken | 25.750 | 25.500 | 51.250 |
2017 – 2018 OCBS Steelhead Tournament
Overall Championship Series Standings
Place
Name
Leg #1
Leg #2
Leg #3
Total Length
Fish 1
Fish 2
Fish 3
Fish 4
Fish 5
Fish 6
1
Harper Ken
28.500
26.500
0.000
0.000
25.750
25.500
106.250
2
Rhoades John
27.000
26.250
0.000
0.000
28.000
24.125
105.375
3
Annandono Mike
27.000
28.500
0.000
0.000
0.000
0.000
55.500
4
Vaughn Brad
28.000
25.000
0.000
0.000
0.000
0.000
53.000
5
Gibson Joe
25.750
0.000
0.000
0.000
0.000
0.000
25.750
6
31 tied at:
0.000
0.000
0.000
0.000
0.000
0.000
0.000
The 4th Tournament Leg will be held Sunday 11 March 2018. Be sure to mark your calendar and plan on fishing the 4th Leg. Hopefully stream and weather conditions will be favorable.
John Beedlow
Tournament Director