April Speaker Is Mike Durkalec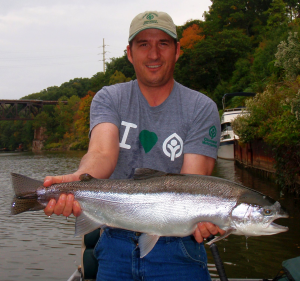 Cleveland Metroparks Fisheries Biologist and OCBS Board Member Mike Durkalec will be giving an overview of steelhead fishing in their parks, which offers the most abundant steelhead fishing opportunities by one entity in the state of Ohio.
From the lakefront to bigger rivers to smaller streams- the talk will include many of the lesser known fishing options in this popular and highly accessible park system.
Mike is a great speaker with a lot of good information to share with our membership. I hope to see you at the meeting.
This will be a great meeting that you will not want to miss. I hope to see you there.
Please Practice "CPR" – Catch and Proper Release


Please Help Conserve Our Steelhead Fishery!
Steelhead Need Clean Water
Steelhead fishing is dependent on clean water, a healthy ecosystem, and just as important, people who care about conservation and resource preservation.
It is the responsibility of everyone who enjoys our great steelhead fishing to help protect and enhance our fishery and the environment. It's not always about how many fish you land each day. At some point, you have to think about giving something back to support the fishery.
Please consider giving back by volunteering for the Rocky River, Grand River or Conneaut Creek clean ups this spring.
Conneaut Creek Clean Up
Saturday May 7, 2016
Ohio Central Basin Steelheaders and Friends of Conneaut Creek are teaming up to organize a clean up on Conneaut Creek on Saturday May 7, 2016. We will meet at 8 a.m. at the CYO baseball fields on Center St. in Conneaut.
Volunteers will be split into several groups to clean up as many sections of Conneaut Creek as possible. We will supply all the necessary gloves and trash bags. Friends of Conneaut Creek will provide lunch.
In the afternoon, we will also clean up several areas in the Horton Road area. Any questions, please contact Jeff Liskay or Tom Blotzer.
17th Annual Grand River Clean-Up
Saturday May 21, 2016
Come help us keep the Wild & Scenic Grand River in Ashtabula and Lake Counties clean & pristine! We will be hiking local parks and weather permitting, canoeing the river (14 and up in sponsored canoes) to gather unwanted waste. Volunteers, clubs, and groups are welcome.
We will meet at the Hidden Valley MetroPark 4902 Klasen Road Madison,OH 44057 at 8 AM. Cleanup will run from 8 AM to about 1 PM. Please RSVP to Lizzie Votruba by May 6, 2016 at 440-528-4161 or evotruba@wrlandconservancy.org.
2016 Rocky River Clean Up
Saturday June 4, 2016
OCBS volunteers are needed to pick up streamside trash. Get involved in the stewardship of the Rocky River Watershed! Meet at Scenic Park Picnic Area by Emerald Necklace Marina in the Cleveland Metroparks Rocky River Reservation on Saturday June 4th at 9:00 am. Be sure to stick around after the cleanup for a cook out at about 11:30. See you there!
Be sure to support our LOCAL Fishing and Outdoor Shops.
They know our fisherie and can help with equipment and methods to use for fishing all the species in North East Ohio. Check out our sponsor page too.
2015-2016 OCBS CHAMPIONSHIP SERIES STEELHEAD OUTING FINAL RESULTS
The following documents show the results for the April 3, 2016 Outing and the Final Overall Winners of the Series. Congrats to all the participants and to the winners. Weather made this a difficult year but OCBS Members were still able to post some great results.
 Championship Series
***Final Overall Standings PDF For Championship Series
Congratulations to Adam Hillman for winning the OCBS Championship Series Steelhead Outing with six fish totaling 161.75 inches in length.
Tom Krause and Phil Hillman placed second and third with six fish each totaling 158.75 inches and 155.50 inches in length respectively.
2015-2016 Championship Series Final Results ( News letter)
3 April 2016 Championship Series Leg Results
Click the above to open the PDF
---
John Beedlow Outing Director