A NEW YEAR AND SOME CHANGES
Welcome Back Everyone! The new O.C.B.S. Steelhead Season Is about to begin. We hope everyone had a great summer and is looking forward to some great meetings and activities that are planned for this year. By the way this is the 30th Anniversary of our club and we hope to make it a memorable celebration as possible.
Our first meeting is at the Firehouse in Willoughby Hills, September 25th, 2014 @ 7:30pm. Our scheduled speaker is one of the best fly tiers around, Mark DeFrank of Pa. Many of us have seen Mark ties some fabulous flies and we are certainly looking forward to enjoy his talents again.
Of course as the years march on, there are always changes and our club has experienced them in the past. We have, over the years, had to change meeting locations, due to events beyond our control. We are facing another situation like that this year. Many of you know that the AMPOL Club, where we have held west side meetings for at  least the last 15 years, has been and is now for sale.
The board of directors has decided to be proactive in finding another meeting location that would serve our needs as the future of the Ampol Club is in question. We have found an excellent location. While it is a little further west but we found it to suit our clubs needs very well. It is Buffalo Wild Wings on Pearl Rd, Just west of I71 (near the Brew Kettle and Home Depot). There is a large back room with a great space that we need for a typical meeting. They have a sound system, an overhead projector and a great menu. One thing that we all will appreciate is that while they are known for wings, they have a full bar menu with burgers, sandwiches, salads and more. They also have a great selection of beers and pop, etc. So food and drink will be available like our meetings at the Firehouse.
This facility will save O.C.B.S. about $1000 dollars a year, which is a great benefit to us and the projects we support each year.
OCBS SEPTEMBER SPEAKER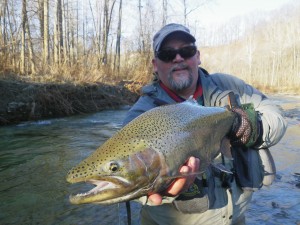 Mark DeFrank will be the Featured Speaker at our September 25, 2014 Meeting at the Firehouse.
Mark "Super Fly" DeFrank is the owner and operator of Defranks Flies & Guide Service. He is a master fly tyer, tying instructor, presentation speaker and full time licensed and insured fly fishing guide for steelhead in PA and OH.
Mark continues to pursue his passion for guiding anglers along Steelhead Alley and matching the hatch on some of the most prestigious waters throughout the Laurel Highlands mountain range. During the months of March & April and October – December Mark devotes his time in Northeast Ohio and Pennsylvania guiding his clients throughout Steelhead Alley.
He is a master fly tyer with 35 years experience, 20 of which are in commercial and competition tying. He holds several prestigious awards, and routinely instructs many satisfied novice, intermediate and advanced tiers. Mark is listed in John Nagy's newest Steelhead Guide – 4th edition. Mark has 5 hot patterns published in the book, with his Blue Steel Caddis being honored in Nagy's NEW Dirty Dozen. Mark is one of the best tyers in the trade.
To fool the most difficult of Trout and Steelhead, Mark has created many of his own patterns and is continually improving on and adapting old ones, many times using new and innovative products and techniques.
OCBS EXPO October 4th, 2014
We help kick off our new season with our 21st, (yes 21st!) O.C.B.S. Steelhead Expo. This year we are again fortunate to be able to hold this event at Rocky River Nature Center, in association with Cleveland  Metroparks. The date is Saturday, October 4th, 2014 from 9:30am – 4:00pm. We will have expert advice for all Steelheaders no matter what style of fishing you prefer, spin, fly, centerpin or spey. We will have all the experts to help you improve your steelhead fishing techniques. I hope to see you there. As usual, we do need thehelp of some of our club members to put on this great event.
OCBS Championship Series and Fly Outings for 2014-2015
This year our Championship Series Outing is sponsored by the Rodmakers Shop who has sponsored our Series Outing in the past.
New this year, our Championship Fly Outing is being sponsored for the first time by The Backpackers Shop in Sheffield Village.
Check in for all of our Outings will still be at Erie Outfitters on the West side and Harbor Bait and Tackle on the East Side. See the outing pages for rules and check in locations and times.
The Dates for the Championship Outings are as follows:
CHAMPIONSHIP SERIES
23 November 2014; 14 December 2014; 15 March 2015
CHAMPIONSHIP FLY FISHING:
26 October 2014; 29 March 2015