Jeff Liskay Will be the Featured Speaker
at our March 26th Meeting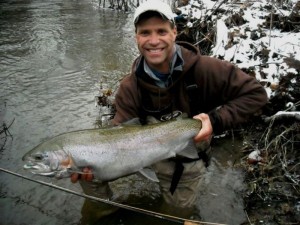 OCBS founding member, Jeff Liskay, will be the featured speaker at our March membership meeting at the Firehouse Pub and Grille in Willoughby Hills on March 26.
Jeff has been fishing for steelhead in Ohio, the Great Lakes and the Pacific Northwest for over 40 years and is one of the most knowledgeable steelheaders in the region. He is on the pro staff of ACS, Patagonia and  Scientific Anglers.
Jeff will make a presentation on what your fly or bait is doing under the water in various conditions, flows and structure. He will help you understand the effects of the current, light, rocks and structure on your drift.
Do you have any questions about steelhead fishing? Jeff will also hold a question and answer session after his presentation. He has a lifetime of experience fishing for steelhead that he is eager to share with fellow club members.
Steelhead Workshop Thanks
We want thank all our members and friends that helped make our Annual February Steelhead Workshop Meeting a success. While the FeBruary Weather was cold the meeting was very warm and informative. We had many guests, several of which joined our club that evening. We owe much thanks to Jeff Liskay, Jerry Darkes, Ken Harper, John Beedlow, Bob Hajek, Paul Deunk and Dennis Vidmar for putting their programs and displays together, and helping answer everones questions. Great fun on a cold February Night!
March Board Of Elections
We will hold our Annual Board of Elections this March 26th at the Firehouse. The members of he Board serve for one year and help provide for the direction of the club and decide on the activities OCBS will schedule through out the year. the Board meets the first Tuesday of each month, currently at the Buffalo Wild Wings on pearl Rd.
Every club has a change in its board every year. OCBS is no different and currently we need a couple of membrs interested in getting more involved with the club to join us on the board this year. the requirements are simple. You need to be a member in good standing and willing to volunteer. Just call Frank Simoncic and let him or another board member or officer know that you are interested.
Please note that officers serve fot two years, and will be voted on in March 2016. So, you have a year to think about that!
OCBS Spring Activities
We have many spring activities planned again this year some involve cleanups, kids days, on river seminars and much more. We are compiling the list now and will add them here in our website calendar and in our monthly newsletter. Check back soon to see the complete list.