March OCBS Membership Meeting
Jerry Darkes and Jeff Liskay
Fishing for Salmon and Trout in Chile. South America
March 23, 2017
OCBS board members, Jerry Darkes and Jeff Liskay took a trip to Chile
South America in the spflng of 2016 r search of new salmon and trout
fishing opportunities in the area. They were able to explore some beautiful
Chilean rivers and would like to share their adventures with their fellow
OCBS members at our March meeting.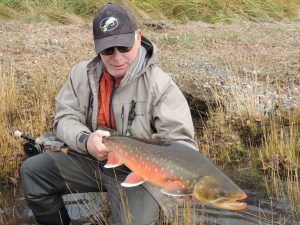 Jerry Darkes has worked in the fly fishing industry for nearly 3 decades
and he is well-known as a guide, instructor, and presenter.
Jerry's angling travels have taken hm across the United States, Canada
and most recently to several locations in Central and South America.
He has authored numerous articles and two books on a variety of fly fish
ing subjects and represents a group of top fly fishing manufacturers.
Page 2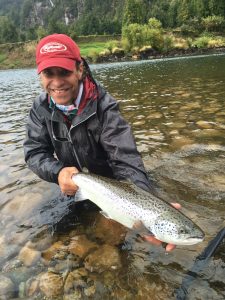 Jeff Liskay
Guide, Instructor, Presenter
7 Landings Way, Avon Lake, Ohio, 44012
440-781-7536
Jeff Liskay has been a self-admitted steelhead junkie for nearly four decades. From his home base in northern Ohio, Liskay has fished across the entire Great Lakes and is now reaching into Alaska, Oregon, Washington, British Columbia, and beyond. He is well recognized for both his two-hand casting and fishing skills and is a regular on the Spey gathering circuit as both an observer and a presenter.
Liskay spends the warmer months prowling Great Lakes shoreline areas chasing warm-water species on the fly, but as the weather cools steelhead take over. He is considered one of the top guides on Ohio's Lake Erie tributaries and is also in high demand as a Spey casting instructor. He is an established speaker and presenter, giving numerous club and show programs each year. Jeff is also a talented fly tier- his creations are generally simple, functional, fish catchers.
Liskay is a Patagonia Fly Fishing Ambassador and a Pro Staff member for a number of companies, including Scientific Anglers and Scott Fly Rods. He has been featured in books and magazines, on television, and in podcasts for his angling skills. Liskay owns and operates Silver Fury Guide Service and Schools, where he focuses on the use of two-hand rods and swung flies for migratory fish.
Membership Dues are Due
If you have not sent in your membership dues for 2017, please do as soon as possible. your dues allows our club to support the newsletter, website, dspeaker fees, club activities such as kids day progeram and much more.Plus we enjoy your company!
Just go to the membership pageof this website, copy the form and bringit and your dues to the February meeting. The other option is to send a check to our P.O. Box. Thanks for your partiipation, we could not do what we do without our great club members.
Next OCBS Tournament Date:
The Forth Tournament leg will be held Sunday 19 March 2017. Be sure to
mark your calendar and plan on fishing the March 2017 Leg.
John Beedlow
Tournament Director
Click the below link for the tournament overall stats
2016-2017
OCBS CHAMPIONSHIP SERIES STEELHEAD OUTING
27 November 2016 LEG RESULTS
30 October 2016 27 November 2016 18 December 2016
19 March 2017 9 April 2017
CHECK IN STATIONS
EAST SIDE WEST SIDE
Harbor Bait & Tackle Erie Outfitters
786 Richmond Street 5404 E. Lake Road
Painesville, Ohio 44077 Sheffield Lake, Ohio 44054
(440) 354-8473 (440) 949-8934
Signup sheets will be available at the September 2016 membership
meeting for those members who want to participate in this season's
steelhead tournament.
Entry fee: $15.00 per participant.
Be sure to consult the Tournament Rules posted on the OCBS website.
John Beedlow
Outing Director
9-6-2016