Welcome to the 2017 Season of Steelheading!
Another new Steelhead season is getting closer and closer. once the rivers start to run the run will begin again! you can prepare by attending our meetings AND our 24th Annual Steelhead EXPO. See some details below:
OCBS SEPTEMBER SPEAKER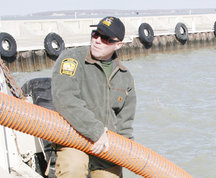 Our first meeting is at the Firehouse in Willoughby Hills, September 14th, 2017 @ 7:30pm. Our scheduled speaker is Kevin Kayle, the Hatchery Manager of Ohio Fish Hatcheries, including the Castalia Hatchery Kevin always keeps us up to date on the Steelhead Program and the forecast for the coming season. He is always informative regarding our fishery.
Through the efforts of the O.D.N.R. we will have fingerlings stocked in our rivers this spring. Kevin will bring us up to date about our fishery. We certainly appreciate the efforts Of the O.D.N. R. to provide fish for next years stocking!
---

OCBS 24nd ANNUAL EXPO Saturday September 30th, 2017
We help kick off our new Steelhead season with our 24th, (yes 24th!) O.C.B.S. Steelhead Expo. This year we are again fortunate to be able to hold this event at Rocky River Nature Center, in association with Cleveland Metroparks. The date is Saturday, September 30th, 2017 from 9:30am – 4:00pm. We will have expert advice for all Steelheaders no matter what style of fishing you prefer, spin, fly, centerpin or spey. We will have all the experts to help you improve your steelhead fishing techniques. I hope to see you there. As usual, we do need thehelp of some of our club members to put on this great event.
---
2017 CHAMPIONSHIP SERIES TOURNAMENT DATES
5 November 2017 19 November 2017 17 December 2017
11 March 2018 8 April 2018
CHECK IN STATIONS
EAST SIDE WEST SIDE
Harbor Bait & Tackle Erie Outfitters
786 Richmond Street 5404 E. Lake Road
Painesville, Ohio 44077 Sheffield Lake, Ohio 44054
(440) 354-8473 (440) 949-8934
Signup sheets will be available at the September 2017 Membership meeting for those members who want to participate in this season's steelhead tournament. Entry fee: $15.00 per participant.
Be sure to consult the Tournament Rules posted on the OCBS website.
John Beedlow
Outing Director